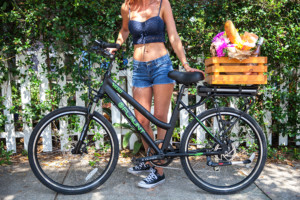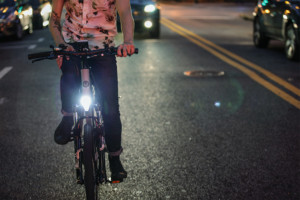 How is FLAUNT different from other eBikes on the market?
For starters, we have one of the best & safest stock batteries in our class, a 36 Volt 15.6 Amp Samsung Lithium Battery pack, that allows you to get over 560 true Watt Hours!  Also, our eBikes look, sound, and feel like normal bicycles (there are no vibrations, and our bikes are super silent thanks to Advanced Sine Wave Technology). FLAUNT Electric Bicycles ride very smooth, without vibrations, and are super silent.  Our eBikes offer 6 different levels of pedal assist, and you don't have to fumble around with buttons or change settings to switch from pedal assist to throttle. On our eBikes, you can switch seamlessly between the two!  We offer a powerful 500 Watt (geared) Motor.  Geared motors are great for hills, and allow us to incorporate a free-wheel within the motor, so when you pedal, there's no resistance from the motor like on an electric bike with a direct drive motor.  Our eBikes also come with integrated headlights, tail, and brake lights.  FLAUNT's beautiful LCD Display is one of the best looking and most functional displays on the market today….it also lights up! Finally, unlike many eBikes, we offer a walk assist mode, so you if you ever need to walk your eBike uphill, or through rough terrain, FLAUNT has you covered!
What are the similarities and differences between the two models – FLAUNT Vicko & FLAUNT Atticus?
Similarities:
The Atticus & Vicko models are aluminum frames and both come stocked with:
Interchangeable 15.6 Amp Samsung Lithium Battery Pack
A powerful 500 Watt FLAUNT / Dapu (Geared) Motor
Front & Rear TEKTRO Disc Brakes
Shimano derailleurs, gears, & shifters
6 Levels of Pedal Assist + "Walk Assist"
A push thumb throttle
Beautiful FLAUNT / Dapu LCD Display that lights up
Front & Rear integrated lights + brake light
Rust Prevention: Stainless Steel spokes, Galvanized Steel chain, plus rust prevention treatment throughout
Sensors in the brakes to disengage motor (safety feature)
Rear luggage rack
Both capable of reaching 20mph and a 40 mile range
The Atticus & Vicko both models have 2 tire options:
The Hybrid Road Tire: 26" x 1.75"
The Off Road Tire: 26" x 2.10"
Differences:
The frame measurements on the Atticus are approximately 1" greater than those of the Vicko, including height & length.
The Vicko frame with the Hybrid tires come with a slightly rounded city-cruiser style handlebar.
The Vicko comes with a Shimano Acera derailleur, while the Atticus comes with a Shimano Tourney derailleur.
Walk Assist is a function that we have implemented to help people walk their eBikes should they ever want, or need to.  This feature is most beneficial when trying to walk your eBike up a steep hill, or through rough terrain. Simply turn on your FLAUNT Electric Bicycle, and then press the [ + ] on the thumb controller for 5 seconds. Your eBike will enter into "Walk Assist" mode, and begin to travel at 5mph, so all you have to do is hold on!
What is Advanced Sine Wave Technology?
Sine Wave Technology, utilized in Sine Wave Controllers (like the controllers on FLAUNT Electric Bicycles), exhibit a more smooth and rounded signal than a "Square Wave Controller" (like found on electric bikes with direct drive motors).  Square Wave Controllers send their signal more abruptly, similar to an on-off switch, where as a Sine Wave Controller is a smooth rise and all of the signals, providing for a much quieter ride!
How long does the battery stay charged?
This is different for every ride, and rider.  Your FLAUNT Electric Bicycle boasts a larger battery than most, and therefore you can achieve higher range than most eBikes on the market today.  For a 160lb rider, on flat ground, you should be able to reach 40+ miles without needing a recharge.  Variable that can affect these results are: wind, terrain, hills, weight of rider, pedal power.
Are headlights and rear lights included when I purchase the eBike?
Yes. When the eBike is powered on, the brake light will illuminate when the brake lever is squeezed, notifying people and cars behind you, that you are slowing down.  When the bike is powered on, one tap of the power button on the thumb controller will illuminate the Front Headlight, the Rear Brake Light, as well as the LCD Display.
Can I ride my eBike like a regular bicycle if I choose to?
Of course, actually there are a couple of ways to do this.  The easiest way would be to keep the eBike powered off, hop on, and pedal away!  However, if you'd like to have the power on, maybe for the lights, simply press the [-] button on the thumb controller, until the pedal assist level reads "0" (zero) on the LCD Display.
Can I go off-road with my eBike and use it for outdoor recreation?
Yes, of course.  Our eBikes are made for the every day rider, so light off road trails are not a problem. Just don't attempt any cliff jumps, we do not advise that!
Are there add-ons for purchase (ie. accessories, extra batteries, helmets, etc)?