Flaunt Vehicles in the press. Please see the links below as Flaunt Vehicles make the press.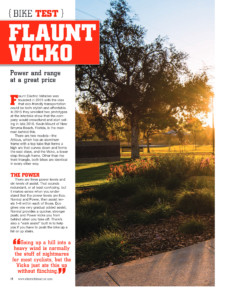 Bike Test - FLAUNT Vicko - Electronic Bike Action
Power and range at a great price
Flaunt Electric Vehicles was founded in 2013 with the idea that eco-friendly transportation could be both stylish and affordable. In 2015 they unveiled two prototypes at the Interbike show that the company would crowdfund and start selling in late 2016. Kevin Mount of New Smyrna Beach, Florida, is the main man behind this.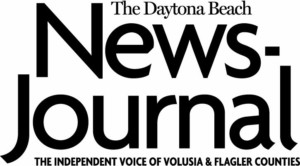 New Smyrna Beach startup taps into growing electric bike market
More battery power and a better design
While electric bikes initially rose in popularity in the United State around 2007, when the economic recession hit and gasoline prices soared, Kevin Mount, co-owner of Flaunt Electric Vehicles based in downtown New Smyrna, said his e-bikes bring more battery power and a better design to the e-bike scene today that has begun to grow in Volusia County the past few years.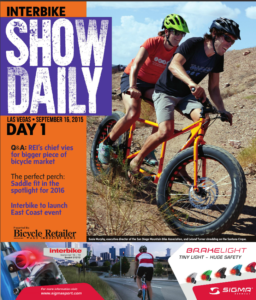 Interbike's "Show Daily" presented by Bicycle Retailer and Industry News
New e-bike brand Flaunts affordable, everyday line
If you've got it … well,you know. Flaunt (Booth 10028), a new e-bike brand from Florida, is making its debut at Interbike with a range of reasonably priced e-bikes, including men's and women's hybrids and beach cruisers, a fat tire bike and an e-fixie. Flaunt is targeting price points of $1,500 to $1,700, with the fixie to be less expensive so it will be more appealing to college students.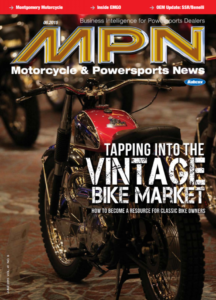 Motorcycle & Powersports News
Commuter Bikes are Good for Us
Motorcycle riders don't just save themselves time and money, they do the same for car drivers. They also help to reduce emissions by cutting back on the number of cars on the road… At least that is the conclusion of global transportation experts. Through the miracle of social media, this story has made mainstream news in America in conjunction with the recent lane filtering law change in Oregon. May being Motorcycle Awareness Month and the fact that winter has finally released its hold just in time for gas prices to spike upward have all contributed to making this topic newsworthy outside of the powersports industry.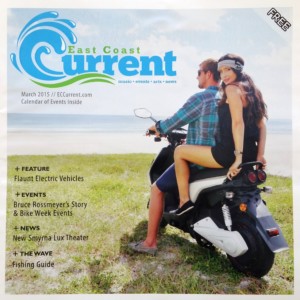 East Coast Current – Inside Look with Kevin Mount
Flaunt Electric Vehicles East Coast Current Interview
Q: Where are you from?
A: I was born in New York, but I grew up mostly in New Jersey. My career brought me down to South Florida in 2008, and then NSB in 2011. There I was doing outside sales and had a big region to cover. Since I like to surf, I chose to live in New Smyrna Beach.
Q: How did you get involved with Flaunt Electric Vehicles?
A: A friend of mine's father was interested in the idea. I was at a spot in my career where I was looking for something new and exciting. He told me the idea about ecofriendly, electric vehicles and I thought it was an awesome opportunity and I jumped right on it!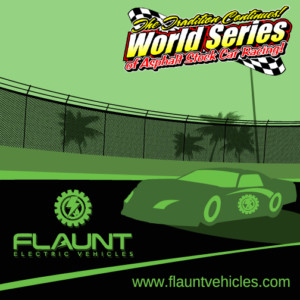 World Series of Asphalt Stock Car Racing 2015 Pit Bike Sponsor
Flaunt Electric Vehicles is Now the Official 2015 Pit Bike Sponsor of the "World Series of Asphalt Stock Car Racing" at New Smyrna Speedway in New Smyrna Beach, Florida
Flaunt Electric vehicles is proud to announce that it is now the official 2015 pit bike sponsor of the "World Series of Asphalt Stock Car Racing" at New Smyrna Speedway in New Smyrna Beach, Florida. New Smyrna Speedway is well-known in the racing world as one of the most challenging raceways. Nine time NASCAR National Champ Richie Evans once said, "If you can win at New Smyrna, you can win anywhere in the U.S." As racing fans know, this means that conditions in the pits are tense. It is critical that pit crews be ready for any contingency and able to move quickly and efficiently throughout the Speedway. That is why Flaunt will also make pre-production electric scooters available for event staff throughout the schedule of events. Their access to Flaunt's small, fast, efficient, & eco-friendly vehicles will enable them to move quickly and safely through the arena, and help make events in the pits run a little smoother.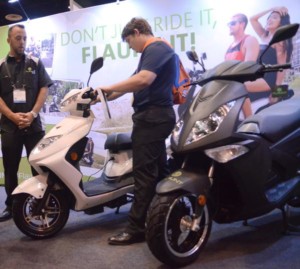 Orlando Business Journal
The big biz win to be had at AIMExpo 2014
Oct 17, 2014
View This Press Article in full Here
The American International Motorcycle Expo is once again calling Orlando home, Oct. 16-19 at the Orange County Convention Center. In addition to boosting the local tourism economy with guests, exhibitor and fan attendance, the industry event features a powerful business tool.
More than 500 exhibitors feature the latest and greatest releases in bikes, apparel and accessories. An outdoor test ride area features road and off-road courses to put the big-ticket products through their paces. But the big deal of this big wheel of an event is the two days of public access.
Flaunt Electric Vehicles lets people test drive their new electric bike at their store in New Smyrna Beach.
FLAUNT Electric Bicycles: Eco-Friendly Transportation At Its Finest
Electric bicycles are the newest craze – they provide an eco-friendly solution for commuters as well as leisure cruisers and adventure enthusiasts alike, with even Kim K's porn co-star Ray J in on the fad.
Flaunt Launches their Two New e-Bikes
Great efforts are being made to streamline e-bikes to make them quieter, lighter and last longer. They present a whole host of benefits to cyclists in the form of energy conservation, quicker rides and to assist with recovery, and we must admit, they are quite fun.
FLAUNT Indiegogo Campaign Launches — Sets a New Standard for the Electric Bicycle Industry
After three years of perfecting its product, FLAUNT Electric Vehicles has launched its electric bicycles on Indiegogo!
FLAUNT Electric Bicycles: Leading the Pack in Eco-Friendly Transportation
FLAUNT Electric Vehicles was founded in 2013 on the idea that eco-friendly transportation could be stylish, affordable, and created with the highest quality standards. After three years of perfecting their product, FLAUNT has released its first top of line performance product on Indiegogo – FLAUNT Electric Bicycles!
FLAUNT Electric Bicycles Join The eBike Revolution
FLAUNT Electric Bicycles (created by FLAUNT Electric Vehicles) brings together exceptionally high-quality components and market-leading aesthetics to consumers looking for an eco-friendly option for commuting, leisure activities, and outdoor recreation. If you're new to the eBike world — riding an electric bike is like riding a normal bike but you have the option for a boost on those long-distance rides or uphill.
New e-bike offering allows riders to Flaunt their electric mobility
Flaunt Electric Vehicles just launched its first e-bike models, which feature a 40-mile range and are priced at under $1400. Electric bicycles are coming on strong, and we're starting to see more brands and more models hitting the market almost every week, with many of them being launched via crowdfunding campaigns or other pre-order mechanisms. The latest entry is no different, except that the company plans to deliver the new bikes during the campaign, not six months to a year later, as some do.
FLAUNT Electric Bicycles launch on Indiegogo
Here's news of a brand new, affordable electric bike with great range – currently on Indiegogo, with the opportunity to snap one up at a much reduced price! This information was supplied to our Electric Bikes Blog directly from FLAUNT Electric Bicycles.
Flaunt Electric Bike Boasts 500W Hub Motor, 6 Levels of Pedal Assist and More
The Flaunt is a powerful and good-looking electric bike that comes in two models including Vicko and Atticus. Both models show off lightweight and durable aluminum frame, and the Atticus features a streamlined, sport-style design, while the Vicko looks more like a regular yet sleek bicycle.
A Fundraising Campaign for These Bikes Delivers Them Upon Ordering
Flaunt's e-bikes come in two different designs — the 'Vicko' and 'Atticus' — with the former being perfect for everyday use and the latter more suited for travelling longer distances. The inexpensive electric bikes are currently fundraising on Indiegogo and rather than sending consumers the bikes months after the fundraising goal is met, the company has chosen to send them out once people order them. The bikes offer features such as a geared hub, a "walk mode," a brake sensor and a smooth transition when the motor is cut out.
Mother wins electric bike for daughter with seizures
To say that 18-year-old Alicia Freeman is overjoyed with her brand new electric bicycle would be an understatement.
Mother wins raffle for electric bike for her daughter
Daughter has seizures
Bike has special features for people with medical conditions
She was riding it Tuesday morning, ringing the bell on the bike.
Alicia's mom shared a picture of her daughter in the hospital after she was run over by a truck when she was two years old. The accident cracked Alicia's skull, leaving her with frontal lobe damage and seizures for the rest of her life.
Flaunt's eBikes: smooth and super silent ride
Flaunt's electric bicycles – stylish and performance-based, eco-friendly transportation option. Powered by a 15.6 Amp Samsung Battery, Flaunt eBikes reach speeds of up to 20mph without pedaling, and a very conservative 35 mile range when utilizing pedal assist.